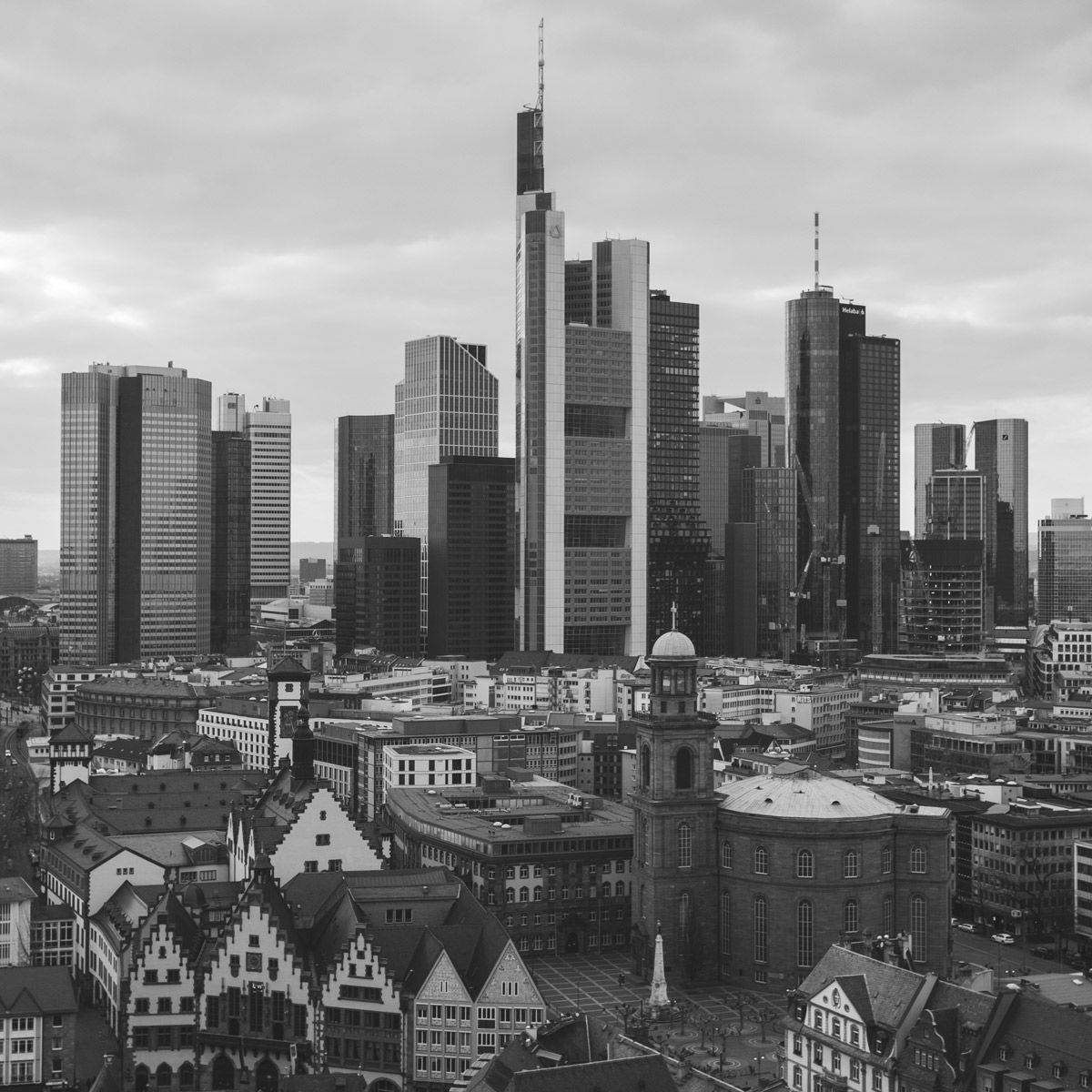 Escape
Frankfurt
A lot has already been said about Frankfurt am Main. The so-called "Mainhattan" is considered a city of contrasts and not only combines the historical and the modern. Quaint restaurants are just as much a part of the cityscape as the modern skyline or the notorious station district. In recent years, however, the financial metropolis on the Main has reinvented itself. Above all, the station district, which is considered wicked, has also been transformed into a gastronomic and art district. The Hessian metropolis thus combines business and culture and thus offers the ideal conditions for our escort service Frankfurt. Our escort ladies can hardly wait to discover award-winning bars, exciting restaurants and luxurious hotels with you.
Escort in Frankfurt for high demands
What man doesn't enjoy it when a woman looks up to him, hugs him, and shows him in all sorts of ways that he's special? How nice would it be if she also read his every wish from his eyes in erotic terms?
A temporary lover from Escort Frankfurt will be happy to sweeten your everyday life. Regardless of whether you are at home in the Main metropolis or whether you come here occasionally for business reasons.
When you meet an escort lady, you no longer need to spend your nights alone. Innocent meetings with attractive models can inspire the senses. They simply do you good and are a wonderful enrichment when life is stressful and exhausting again. Treat yourself to this little break and look forward to the date with your dream woman from the escort in Frankfurt.
Escort Frankfurt – experience something special
Maybe you have already admired the well-known sights of Frankfurt, such as the Main Tower, the Frankfurt Römerberg or the Palmengarten. With a stunning woman by your side, trips like this take on a whole new meaning. The environment in "Mainhattan" is extremely inspiring.
But in truth, the only thing that matters now is the erotic sparkle that's in the air between the two of you. Imagine how you and the lady from the escort Frankfurt go arm in arm on a journey of discovery and at the same time look forward to the upcoming night together in the hotel. Do you feel that promising tingling in your stomach?
True to the motto: "First the pleasures of the palate and then the senses" a visit to the Kleinmarkthalle in Frankfurt is a good idea. There you and your loved one can taste all kinds of delicacies. Whether exclusive chocolates, oysters or expensive spices – you will enjoy it. Make the eyes of your companion from the Escort Frankfurt shine by presenting her with a lush bouquet of flowers from one of the numerous market stalls.
A glass or two of the famous Ebbelwoi also lightens the atmosphere – and at the same time whets the appetite for a luxurious dinner in the Villa Merton or in the gourmet restaurant Aureus. If you like, let the erotic-culinary evening end at the bar in your hotel. What will happen in the following hours is solely up to you and your companion from Escort Frankfurt.
The ideal location for your escort date is the Roomers Hotel. It's sexy, sensual, mysterious and luxurious, so it has a lot in common with our muses. The in-house bar offers burlesque charm and dimly lit alcoves where you can enjoy your privacy.
The Frankfurter Hof, the flagship of the Steigenberger Group, is a particularly wonderful place to stay. The 5-star hotel is without a doubt one of the most renowned hotels in the city. Located in the heart of the banking district, with its historical charm, you and your high-class escort lady are offered a first-class place to stay. The classically and stylishly furnished rooms and suites are luxurious retreats that you hardly want to leave. Use our Frankfurt escort service to pamper your body, mind and soul. This works particularly well in "The Spa", the in-house wellness temple, which lets you and your companion dive into another world. The Brasserie Oscar's and the Restaurant Français, which, as the name suggests, serves French haute cuisine, will also take care of your physical well-being.
Elaine's Greenhouse is just a stone's throw away from Goethestrasse, between high-rise buildings. The day bar resembles a greenhouse or even an urban jungle and thus forms the perfect backdrop for a little break after a shopping tour with your high-class escort in Frankfurt. But Elaine's Greenhouse not only impresses with its extraordinary architecture, but also with its pointed, international cuisine, which also has vegan options for you.
In addition to the Greenhouse, Elaine's restaurant is also suitable for an unforgettable experience with our Frankfurt escort service.
Between the rows of houses in downtown Frankfurt, this pavilion almost looks like it's from another time. The former kiosk and jazz club from the 1950s has been home to the Heimat wine restaurant since 2007. In addition to the extensive wine selection, it also impresses with its culinary program and stylish furnishings. Small but fine, upscale but still informal, it offers an ideal place for you and your escort lady in Frankfurt.
The trendy restaurant offers upscale home cooking in the middle of no man's land in the train station district. No molecular experiments, no fusion cuisine, but a fine dining experience that is tangible, classic, regional and not exactly cheap. Locally sourced fish is the focus of the menu. Good bourgeois, but also trendy and elegant. Your companion from our escort service Frankfurt will love it here!
In the midst of the hustle and bustle of downtown Frankfurt, a hidden gem of indulgence culture reveals itself – the Kinly Bar. Its discreet appearance is able to leave passers-by in ignorance at first, because viewed from the outside, nothing can be inferred which treasures are hidden behind the inconspicuous walls .
As in the glory days of Prohibition, access to the Kinly Bar does not open without a certain degree of ceremony. A subtle ring on the simple door, and only after careful identification and authentication does she allow her chosen ones to enter.
A staircase leads the visitor down into the depths of the basement, where the heart of the Kinly Bar can be found. In a cozy vault, not only the essence of a modern speakeasy, mysterious and exclusive, but also innovative, mixological craftsmanship unfolded. Have you always wanted to know how a rotary evaporator refines your drink? Find out together with your high-class escort model from Frankfurt. Techniques such as sous vide, ultrasound, fermentation and homogenizers are also used and will ensure a taste experience in a class of its own. The bartenders here conjure up nothing less than liquid masterpieces. Use our Frankfurt escort service to experience moments that go far beyond the ordinary.
Where Gekkos once made a name for itself, in the bar of the Hilton Frankfurt City, you will now find the Mandala Bar. Here, the high art of mixology is celebrated, which takes you on a journey through a wide variety of worlds of taste – from classic to traditional too creative and experimental – with and without bubbles.
As soon as you enter the Mandala Bar, a wickedly mysterious atmosphere is revealed. Subdued light, a little plush, invites you and your companion from the Escort Service Frankfurt to get closer in a discreet ambience. Separées offer space for intimate get-togethers and confidential conversations that can be conducted far away from prying eyes. Here luxury, pleasure and intimacy merge into a harmonious whole and ensure unforgettable moments with your model from Amuse Escort Frankfurt.
Frankfurt von der schönsten Seite kennen lernen
Look forward to an unforgettable time with a wonderful woman. Be inspired and make an appointment with our high-class escorts. Even if she does not live in Frankfurt, she will be happy to come to you if you cover the travel expenses. How do you imagine the date with your escort lady?