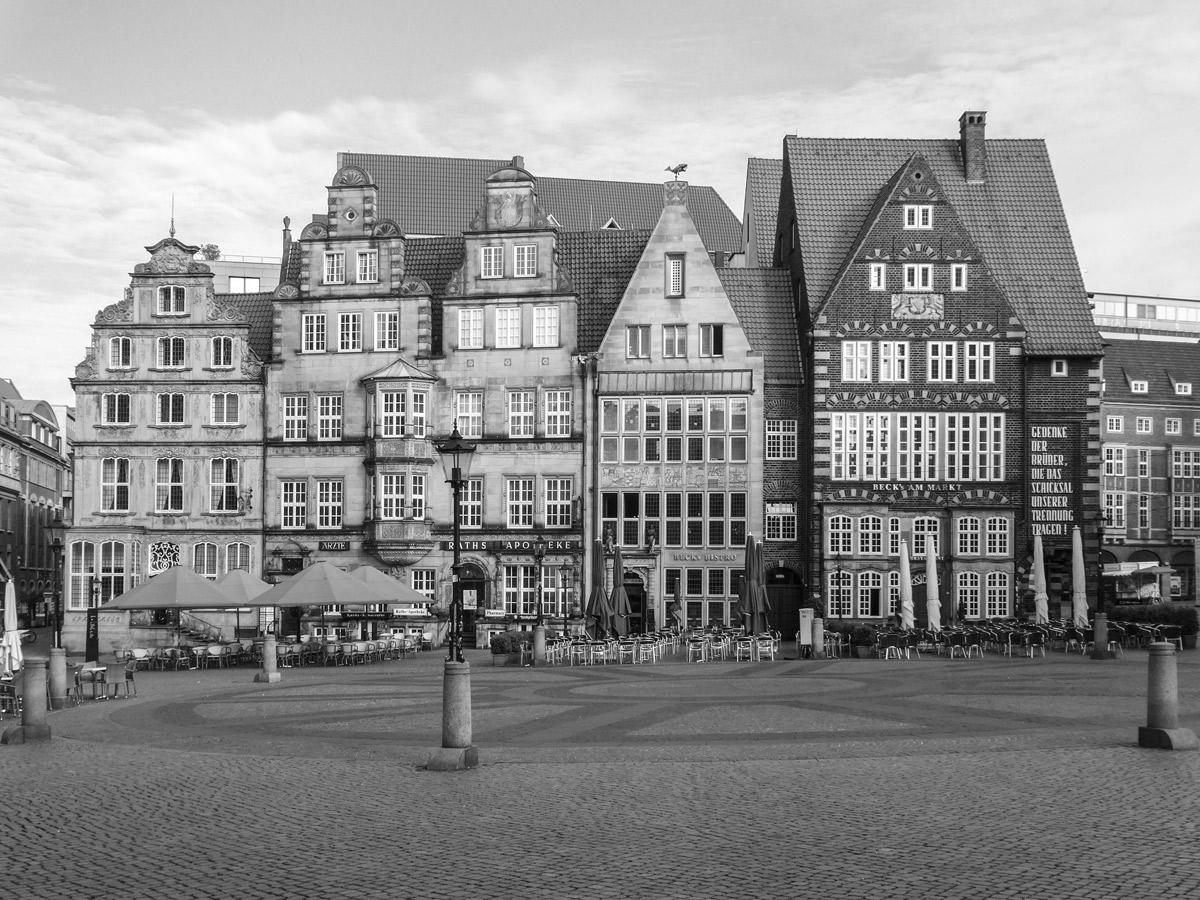 Escape
Bremen
What man doesn't enjoy it when a woman looks up to him, hugs him, and shows him in all sorts of ways that he's special? How nice would it be if she also read his every wish from his eyes in erotic terms?
A temporary lover from Escort Bremen will be happy to sweeten your everyday life. Regardless of whether you are at home in the Hanseatic city or whether you come here occasionally for business reasons.
When you meet an escort lady, you no longer need to spend your nights alone. Innocent meetings with attractive models can inspire the senses. They simply do you good and are a wonderful enrichment when life is stressful and exhausting again. Treat yourself to this little break and look forward to the date with your dream woman from the escort in Bremen.
Escort Service Bremen
Our excellent escort ladies in Bremen enchant everyone. Experience unforgettable hours full of eroticism and lust. A blind date for the perfect match. Let your dreams come true, escape from everyday life and, accompanied by your lady, immerse yourself in a world between exclusive frivolity and cultivated nobility.
Escorts in Bremen: Find your muse
If you trust the escort service from Amuse Escort, then you will find what you are looking for. Live your dreams. Start casually, brush off the dust of everyday life and let our artists seduce you. The smiles of our ladies will make you forget what was in front of you and take you on a journey from exciting flights of fancy to the deepest relaxation.
When charisma and visual appeal complement each other perfectly
Our exclusive models in Bremen are masters of their art. They are attractive and know their worth. They are women who are in the middle of life, educated, self-confident and articulate. In search of the extravagant, you will become your temporary lover. They not only share their appearance with you, but want to be touched with all their senses.
Bremen Escort: Preparation for the date with your dream lady
Enjoy the anticipation and prepare in good time for the date with your favorite. Talk to us about your preferences, expectations and dreams. Reveal something about yourself, your temporary lover will do everything to turn your head from the start. The more she knows, the better she can prepare.
Your escort service beyond the borders of Bremen
Your dream lady is not there? You are also welcome to visit our other high-class escorts. If we cover the travel expenses, our escort ladies will be happy to be invited to Bremen – to a different city and on a new adventure.
The Parkhotel in Bremen, which is located in idyllic and picturesque surroundings, is the perfect retreat for a well-deserved break with your escort lady from Bremen. Escape the hustle and bustle of everyday life and relax completely. From the outside, the Parkhotel is an impressive building that exudes an aura of warmth and luxury with its classic architecture and elegant facade. The rooms and suites of the Parkhotel are equipped with every conceivable amenity that you need to feel comfortable with your escort lady from Bremen. Each room is stylishly furnished and offers you a breathtaking view of the green surroundings and the lush gardens of the hotel.
During your stay you can let yourself be pampered together in the hotel's wellness area. The indoor pool and sauna invite you to relax, while the jacuzzi and massage rooms pamper your senses.
When it comes to dining, the Parkhotel Bremen offers a wealth of options that will delight any palate. From delicious snacks and drinks in the elegant hotel bar to the finest dishes in the hotel's own restaurant – there is something for every taste.
The Parkhotel Bremen is the perfect place for an unforgettable stay with a beautiful muse by your side. You will surely remember this evening for a long time. Plan your escort date with our reputable escort agency from Bremen.
The Atlantic Grand Hotel Bremen is a historic property that takes you on a journey through time. Originally constructed as a consulate building, the building has been lovingly restored and converted into a luxury hotel that combines the charm and elegance of yesteryear with the most modern comforts.
The rooms and suites of the Atlantic Grand Hotel are spacious and equipped with the highest level of comfort. Each room is individually designed and has a unique flair that reflects the history and character of the building. The furnishings are luxurious and timelessly elegant, so that you and your escort from Bremen will feel like you are in a royal palace.
Why not use the luxurious wellness area with sauna and steam bath together with your Bremen muse, relax and recharge your batteries for the erotic time together in the hotel room.
The hotel's restaurant offers an excellent selection of delicacies from the region and around the world. Take your chosen escort lady from Bremen out to a dinner date to get to know and get to know each other and enjoy the crackling in the air between you and your escort lady.
An escort date at the Atlantic Grand Hotel Bremen is a truly unique and unforgettable experience, which you can best plan with a renowned escort agency from Bremen.
The Villa Linnenschmidt is a jewel in the middle of the historic city of Bremen. This beautiful villa, built in 1890, is an architectural masterpiece and exudes the charm and elegance of a bygone era. The rooms are tastefully furnished and offer you the highest level of comfort and a cozy atmosphere that is ideal for an adventure with an escort lady from Bremen. The location of the hotel is perfect for exploring the city of Bremen with your companion. In the immediate vicinity there are numerous restaurants, cafés and bars as well as sights such as the historic town hall and the famous Bremen Town Musicians statue. Relax together in the idyllic garden or enjoy a refreshing drink in the stylish hotel bar. Here you can unwind and forget everyday life. Feel free to ask our escort service from Bremen about the right companion for your adventure.
The Chili Club Restaurant is perfect for setting the mood for an exciting evening with your escort lady Bremen! A place where food is a true declaration of love to the senses. The warm, welcoming atmosphere invites you to settle into your seat and gaze into the eyes of your chosen muse.
Decorated in a modern and welcoming style, the room is perfectly suited to create an intimate atmosphere. But the real highlight is the kitchen – a heavenly oasis for all the senses. Asian cuisine offers a variety of delectable dishes artfully prepared by the talented chefs.
And while you enjoy the food, you can hardly take your eyes off your beautiful escort lady from Bremen. Use our high-class escort service Bremen to plan a romantic dinner date followed by erotic highlights.
Schröter's Leib und Seele is a truly unique restaurant in the charming Schnoor district of Bremen! If you are looking for a culinary experience to take out an escort from Bremen, then you have come to the right place. The interior design is rustic and stylish at the same time, with warm wood tones and elegant details that create a cozy and welcoming atmosphere. Perfect for looking deep into the eyes of your companion, for flirting and getting to know each other.
The menu at Schröter's Leib und Seele contains a variety of dishes, ranging from classic regional dishes to innovative creations. The ingredients are fresh and of the highest quality. We especially recommend the delicious fish dishes that come from the waters of the nearby North Sea.
Of course, a perfect culinary experience also includes a suitable wine. Schröter's Leib und Seele has an extensive wine list that includes a variety of wines from different regions and countries. The friendly staff will be happy to help you choose the right wine to go with your meal.
We, your Escort Service Bremen, will be happy to help you choose the right companion for this culinary experience.
Bremen – a city for the senses
Get to know each other in private and relax together with a good meal. You can let the evening begin at the romantic Italian Ristorante Bianconero. Enjoy private time with your escort lady in the best hotels in town, such as the Courtyard by Mariott or the Parkhotel. Stroll through the old town of Bremen with its cozy network of streets, characterized by the historical charm of the old buildings. Let yourself drift and make your day in Bremen unforgettable.
Request your escort in Bremen now!